TEADIT Joint Sealant. 24B
TEADIT Expanded PTFE Joint Sealant. 24B
Construction:
Style 24B joint sealant is produced by expanding 100% virgin PTFE into a highly fibrillated structure which exhibits characteristics significantly different than conventional PTFE. The expanded PTFE is much more flexible than regular PTFE and thus conforms easily to irregular and rough surfaces. In addition, the expanded material is easier to compress and exhibits excellent resistance to creep and cold flow. This style of joint sealant is supplied as a continuous tape with a self-adhesive backing strip to facilitate easy installation. TEADIT 24 B is a gasket material made from pure, expanded, virgin PTFE. The whole production process is subject to strict quality control, registered under DIN EN ISO 9001 & 14001.
Application:
Style 24B joint sealant is soft and marshmallow-like, allowing it to readily conform to and seal flanges with irregular and damaged surfaces. Because it is composed of 100% PTFE, it can handle virtually all chemicals in the 0 - 14 pH range and will not contaminate flow media. It has no smell or taste. It is neither contaminating nor toxic and it fulfills FDA 21 CFR 177.1550 Perfluorocarbon Regulations.
The versatility of this style is finding new applications everyday in the process industries and the OEM market.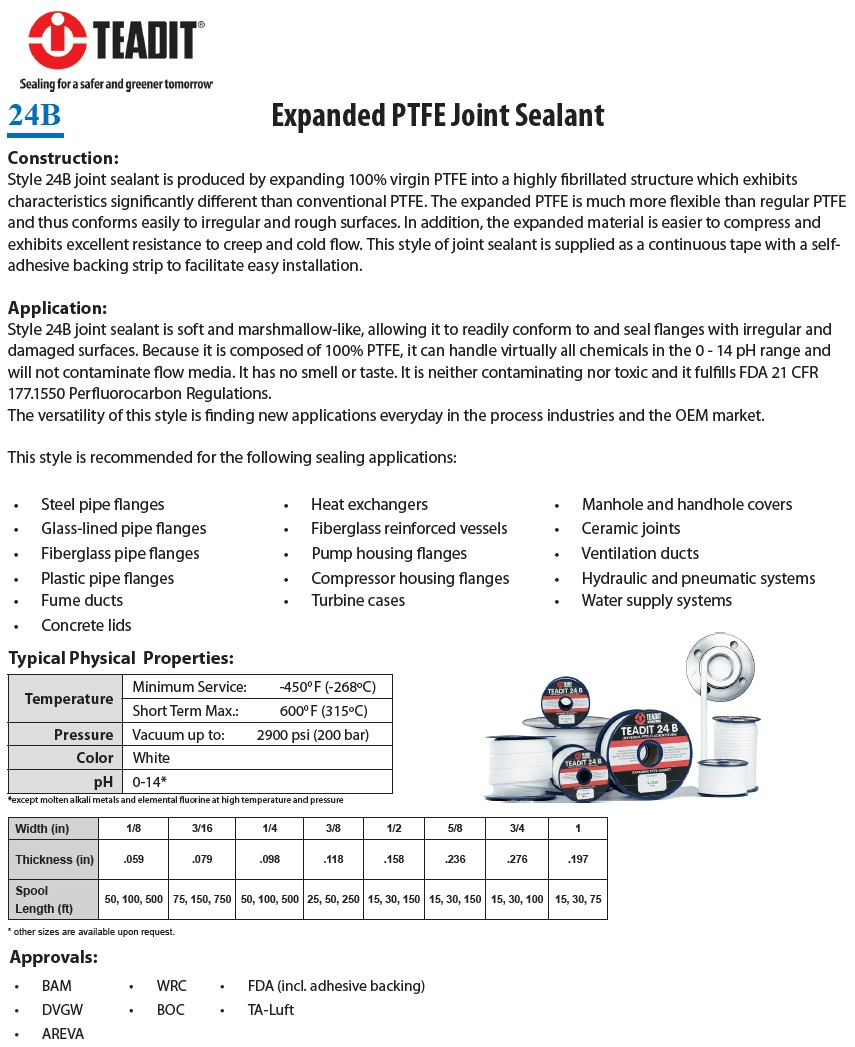 Technical data:
• PTFE Temperature range: -268 °C to +260 °C
(short time +315 °C)
• Chemical resistance: resistant against all chemicals from
pH 0-14 - except molten alkali metals and elemental fluorine at
high temperature and pressure
• Density: 0,65 g/cm³, +/- 0,1 g/cm³ (for rectangular crosssections
only)
• Aging resistance: TEADIT 24 B does not age (please note:
adhesive tape has limited shelf life!) and is UV-resistant
• TEADIT 24 B is physiologically harmless. It has no smell or taste.
It is neither contaminating nor toxic. It complies with the FDA 21
CFR 177.1550 Perfluorcarbon Regulations
• Color: white
Typical application range:
• Temperature range: -60 °C up to +230 °C
• Operating pressure: from vacuum to 40 bar
For details on applications with higher temperatures and / or
pressure please contact TEADIT application engineering!
Approvals:
• DVGW / WRAS / FDA (incl. adhesive backing)
• EU 1935/2004
• TA-Luft
Tests: BAM
Advantages:
• Quick and simple installation: adhesive strip makes
installation easier
• Reduced down time: immediately available, no cutting or
punching of gasket necessary
• Reduced stock: a few spools of different sizes cover most
applications within a plant
• No risk: the versatility of TEADIT 24 B eliminates the risk of
using wrong material for a certain application – this prevents avoidable breakdowns
• No waste: TEADIT 24 B is a gasket from a spool, no material gets waste